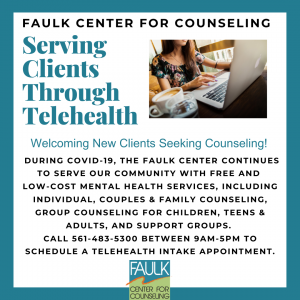 The Faulk Center for Counseling provides free and low-cost counseling services to people of all ages, from children to the elderly. Group, individual, and family therapy is provided using a variety of treatment modalities. Clinical services are provided by graduate students in training and volunteer mental health professionals under the close supervision of licensed psychologists.
Services and programs are available at our location in Boca Raton, and at off-site locations in various senior communities and local schools.
Initial Evaluations
Except for participation in support groups, all clients receiving Center services must first complete an initial evaluation, which is a comprehensive clinical interview. After completing an intake form, a prospective client will meet with one of our clinicians for about one hour. Upon completion of the intake interview, our clinicians discuss the issues and needs of the client with our licensed psychologists at a weekly staffing meeting. The treatment team makes recommendations for services, which may be any one of the Center's services or services provided elsewhere, depending on the client's needs.
The intake clinician will contact the client within one week of the initial evaluation to present the treatment team's recommendations. The fee for the initial evaluation is $55 and must be prepaid. This fee may be reduced for those clients with a demonstrated inability to pay.
Individual, Couples, and Family Therapy
The Center also offers individual, couples and family therapy for those clients who demonstrate a clinical need for individual counseling. The cost for this therapy is $45 per session, although the fee may be reduced for those clients with a demonstrated inability to pay. In order to receive individual therapy services, clients must first complete an initial evaluation.
Psychological Testing
The Center offers reduced cost comprehensive psychological evaluations for children and adults. Many parents seek our services for testing for their children, and our reports can be used for recommendations to schools regarding placement, ESE (gifted testing), FCAT testing, SAT preparation and diagnosis of learning disabilities.
New Program For Seniors